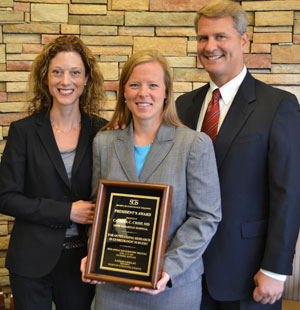 Fellowships
TriHealth's Fellowship Program in Female Pelvic Medicine and Reconstructive Surgery offers comprehensive training in all areas of urogynecology, female pelvic medicine and reconstructive pelvic surgery. Find more information about the fellowship here, in our education section.
Residencies
Our physicians are also faculty for TriHealth's well-regarded Obstetric and Gynecology Residency program, which offers a comprehensive education in obstetrics and gynecology. Discover more about our program here, in our Education section.
Research
We collaborate with TriHealth's Hatton Institute for Research and Education in numerous clinical trials that bring the most current information and care to our patients. This positions TriHealth on the forefront of urogynecological research and care in the Greater Cincinnati region.
Open Studies
2014
Compliance and Accuracy of 24 Hour Voiding Diaries in a Urogynecology Practice
Resident Education and Satisfaction with Training in Robotic Surgery: Results of a national multispeciality survey
A New Summary Score for the PISQ-IR
Is There a Difference in Pain and Quality of Life Following Vaginal Hysterectomy with Vaginal Reconstruction Compared to Robotic Colpopexy? A Prospective Cohort Study
Impact of Provider Education on Rates of Perioperative Corneal Abrasion; Experience of a Large Community Based Hospital
Urethral histology, innervation, and support
Detailed Histologic Anatomy of the Vagina in Female Cadaveric Dissection
A Randomized Controlled Trial of Oxybutynin and Omega-3 Fatty Acid supplementation versus Oxybutynin and Placebo for Treatment of Overactive Bladder in Women
Comfort levels of primary care providers with screening, diagnosing, treating and referring pelvic floor disorders
Associated factors in women presenting for mesh-related complication surgeries
Fellows' Pelvic Research Network (FPRN): Social Networking: Multi-center survey of use among urogynecology patients
Attitudes and Experiences of Urogynecologists and Pediatric Gynecologists regarding Genitoplasty: a National Survey
Robotic Sacral Colpopexy: A Radiographic Study of Anatomy and Suture Location
3D virtual reality robotic simulation in an academic setting: a randomized controlled trial
Resident Burnout: A Cross-Sectional Survey Study Among Specialties after Implementation of the 2011 ACGME Duty Hour Restrictions
Does Vaginal Packing Influence Patient Outcomes following Vaginal Reconstructive Surgery? A Randomized Controlled Trial
Effects of Preoperative Dexamethasone on Postoperative Quality of Recovery following Vaginal Reconstructive Surgery: A Randomized Controlled Trial
Acupuncture and Female Sexual Dysfunction in Premenopausal Women: A Prospective Cohort Study
Impact of Technologic Innovation on Hysterectomy Route and Associated Implications for Resident Education
Peri-operative Caregiver Burden in the Geriatric Urogynecologic Population
Effects of Physical Therapy on Pelvic Floor Symptoms and Quality of Life in Postpartum Women Following Severe Perineal Trauma: A Randomized Controlled Trial
Establishing Health Status Utilities for Urogynecology
Personality Traits and Coping Strategies among Women with Vulvodynia
Vaginal Length after Prolapse Repair: A Comparison of Robotic Assisted Sacrocolpopexy and Uterosacral Ligament Suspension
Preoperative Management of Antibiotics in Cesarean Sections: A Study in Quality Improvement Involving Physicians in Training
Systemic Markers of Collagen Metabolism and Vitamin C in Smokers and Non-Smokers with Pelvic Organ Prolapse
Colpocleisis: A Prospective, Multi-Center Analysis of Body Image, Satisfaction and Regret
Sexual Function and Personality: A Population Based Analysis
Effects of Physical Therapy on Quality of Life and Function following Vaginal Reconstructive Surgery; a Randomized Trial
Bowel preparation and return of bowel function after pelvic organ prolapse surgery
Top Right Image: Catrina Crisp MD MSc FACOG FPMRS earned the 2012 President's Award for Outstanding Research in Gynecology Surgery.