Your Hospital Stay
Having a baby is an exciting time and brings with it many new experiences. We want you to have the best stay possible in the short time you are here. Our goal is to meet your expectations, while giving you an idea of what to expect when you are here. The average length of stay is less than two to three days. There is a lot to do in that short time, and you will experience multiple interruptions in your day with visits from staff members who are there to ensure you and your baby have everything you need before your discharge.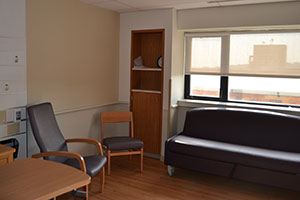 Our hospitals offer a "Mommy Quiet Time" daily to allow for one and a half hours without interruptions, unless you want to be available for a particular interaction.
Having a baby takes a lot of energy. If you feel you are someone who requires additional down time, you may consider limiting your visitors so you have more time to rest and less time being a host.
After discharge from the hospital you may receive a follow up phone call from one of the nurses from the Post-Partum Unit. This call is provided to check to see how things are going at home and answer any questions you may have regarding your discharge instructions. If you are not at home we will leave a message allowing you the opportunity to return the call.
Cafeterias
TriHealth cafeterias offer reasonably priced meals and snacks and are open at varying times.
Gift Shops
TriHealth gift shops offer a variety of gifts, including flowers, balloons, stuffed animals, magazines and cards. At Good Samaritan, the Guild Gift Shop is located on the First Floor, and a smaller Clifton Corner Shop is located on the Sixth Floor. Bethesda North Hospital has a gift shop on the First Floor near the main entrance.
Support Services
Bethesda North and Good Samaritan hospitals offer a variety of support services for mothers-to-be. Chaplains are available to meet spiritual needs. Grief support nurses are available to assist in meeting emotional and spiritual needs if you should experience a loss during any stage of your pregnancy. Social Services representatives provide counseling and referrals to community resources, and patient representatives coordinate communication between patients and the hospital to help resolve problems, concerns and unmet needs.
Pastoral Care
Bethesda North: 513 865 1175
Good Samaritan: 513 862 2281
Patient Representative
Bethesda North: 513 865 1115
Good Samaritan: 513 862 2582
Perinatal Grief Specialist
Bethesda North and Good Samaritan 513 862 1163
TriHealth wants your birth experience to be a joyful one. However, in the event of a difficult outcome, TriHealth offers the support of a perinatal grief specialist.
Cell Phones
Cell phones are permitted in the hospital on units where monitoring is not in place. Cell phones are not permitted in the NICU or the Special Care Nursery. Reception may be poor in some areas.