Congratulations on your pregnancy. The countdown to your baby's arrival has begun and you are probably feeling excited and anxious as you anticipate welcoming the newest member of your family. At TriHealth, we coordinate care and use a patient-centered approach to ensure that you are fully prepared for the changes ahead.
Hospital Registration
Help us better prepare for your arrival by pre-registering for your delivery. Call (513) 569-6600. Registration hours are:
Monday through Friday: 7:30 a.m. to 8 p.m.
Saturday: 9 a.m. to 1 p.m.
*Have your insurance card available.
You will receive an information packet from your obstetrician or midwife. Please complete and return the paperwork in this packet within one week using the addressed envelope to the hospital. It contains your hospital pre-registration. This information must be placed into an electronic medical record, which cannot be done without your preregistration.
If you have any questions about your delivery and hospital stay, contact:
Directions to TriHealth Labor and Delivery Units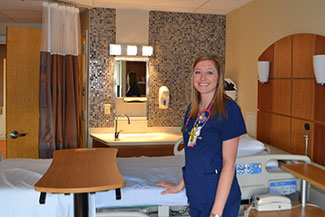 Bethesda North Hospital
Enter Bethesda North campus from Montgomery Road.
Follow signs for Hospital Parking (lot to the right of main entrance).
Valet parking is available Monday-Friday, 7 a.m. to 7 p.m. and Saturday-Sunday, 9 a.m. to 5 p.m. at main entrance.
Enter hospital via Main Entrance which is open 24/7.
Take Main Elevators to Level 3.
Maternity Registration/Triage desk is right off of the elevators.
Good Samaritan Hospital
Enter the hospital campus from Dixmyth Avenue
Park in the Visitors Garage or use valet parking
Valet Parking is available between 6 a.m. to 6 p.m. (temporary parking is available)
If using the Visitors Garage, park near the Red Elevators and take the elevators to Level L
Enter the hospital's main Dixmyth lobby (From 8 p.m. to 5 a.m. use the intercom to gain access into the lobby).and take the North Elevators (located near registration) to the 9th floor
McCullough-Hyde Memorial Hospital
Enter the hospital campus at the Main Entrance (110 North Poplar Street, Oxford OH 45056) : Open Daily 6 a.m. - 8 p.m.
Please check in at the Registration Desk. They will direct you to the elevators.
After hours, 8 p.m. - 6 a.m. daily, please use Emergency Department entrance.
In case of an emergency, drive directly to the Emergency Department.
Maternity Orientation and Tour
Becoming acclimated with our hospitals and the birthing process is important to help delivery go as smoothly as possible. We offer free maternity orientation and tours on weekday evenings and on Saturdays and Sundays.
During these group sessions, you will be introduced to the maternity services available at Bethesda North Hospital or Good Samaritan Hospital and discuss what to expect during your stay. The tour includes the areas of Labor and Delivery and Postpartum of each hospital. It does not include a visit to the Newborn Intensive Care Unit at Good Samaritan or the Harold and Margret Thomas Special Care Nursery at Bethesda North.
This tour is appropriate for adults; tours for children are given with the Big Brother/Big Sister class.
Private Tours
Private tours are available for parents with special needs. For example, if you have a need for an interpreter or have difficulty with English; are expecting a baby with health issues; or are using a surrogate mother, planning an adoption, or having a teen pregnancy. If you schedule an individual session with a nurse care coordinator, a tour can be provided as part of this session.

For all orientation sessions, please complete and bring the hospital information received in the packet from your doctor/midwife's office, or you may mail it in to us. If you have not received a packet, please ask your doctor/midwife for one at your next appointment.