The Zito family among many thriving after receiving prenatal care, delivery and long-term follow up.
Mila had her first surgery before her first breath, making the Special Delivery Unit the perfect place for her mom Maddie Zito to bring her into the world. Here, Mila was able to receive immediate medical treatment from pediatric specialists and stay in the Newborn Intensive Care Unit (NICU) right by the delivery room while mom recovered down the hall.
Beginning June 28, even more healthy moms like Maddie, whose babies face complex conditions, will be able to deliver and recover within Cincinnati Children's Fetal Care Center (renamed and previously known as the Cincinnati Fetal Center). The Special Delivery Unit at CCHMC includes six labor/delivery/recovery rooms, dedicated operating rooms and 24/7 triage. This collaboration between Children's Hospital and TriHealth offers comprehensive care for healthy moms expecting a baby with known medical conditions that require specialized NICU and CICU care.
"Through such collaboration, TriHealth Maternal Fetal Medicine (MFM) sub-specialists are able to provide expertise in obstetrics and maternal-fetal medicine to improve pregnancy outcomes for babies that require complex fetal surgeries and care. TriHealth MFMs provide highly specialized, integrated models of obstetrical care with a one-stop care model for these families." said Mounira Habli MD, Clinical Director, TriHealth Fetal Care Center.
"Mom is near her baby after delivery," said Foong-Yen Lim, MD, surgical director, "and the baby is not subjected to the risk or stress of transportation or travel from one hospital to another."
For Mila, it made a huge difference. From the moment she was born, she was surrounded by the expertise, excellence and exceptional care provided by our NICU and Cardiac Intensive Care teams.
An Innovative Answer for Mila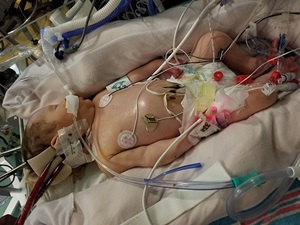 Before being born, Mila had a breakthrough procedure to treat a hole in her diaphragm, a condition called congenital diaphragmatic hernia (CDH). The Fetal Care Center is one of a few places in the nation to offer a minimally invasive procedure that involves inserting a tiny balloon into an unborn baby's windpipe to help improve lung growth. It's known as fetoscopic endoluminal tracheal occlusion (FETO).
The balloon blocks the windpipe and remains in place for a few weeks to allow fluid produced by the lungs to build up and prevent the abdomen from migrating into the chest and crowding the lungs. After several weeks, the balloon is removed so the lungs can mature and allow the baby to breathe after birth.
"Mila's odds of survival without the procedure were not good," said Maddie. "We wanted to try everything we could."
"In severe cases of CDH, the survival rate is ranging from less than 20 to 50 percent, but with FETO, we're seeing a huge improvement in odds of survival," said Foong-Yen. "Right now, it looks like survival rates as high as 80 to 90 percent are possible. We also find that a higher number of patients are able to go home without oxygen supplementation and their overall length of stay is shorter."
Mila spent more than three months in the NICU. To Maddie's amazement, she brought her daughter home without needing oxygen supplementation. Mila now participates in the FETO study that is helping us learn how babies like her are doing as they grow.
Maddie gushes that Mila is doing phenomenally at her developmental assessments. "She's doing better than we could have imagined. She even scored 'superior' in her fine and gross motor skills, and we are thrilled."