10+ Years on the West Side and GROWING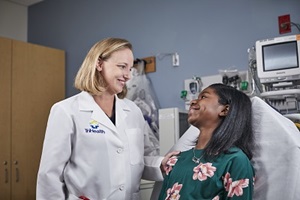 Good Samaritan Western Ridge is growing from 53,000 square feet to 145,000 square feet delivering integrated, world-class health care to the west side.
Good Samaritan Hospital and TriHealth are bringing even more physicians and additional clinical care to your neighborhood.
One stop for all your health care needs
New physicians, new services, new offices!
New and expanded services include:
Cardiovascular Center with Cardiac Rehabilitation
Cancer Center including Radiation Oncology
24-Hour Emergency Department
Comprehensive Diagnostics
Comprehensive Lab Services
Physician and Specialist Practices

Audiology
Cardiology
Dermatology
Ear, Nose & Throat
Endocrinology
Gastroenterology/GI
General Surgery
Physician and Specialist Practices (continued)

Infusion Center
Neurology
Obstetrics & Gynecology
Oncology
Orthopedics
Physical Medicine & Rehabilitation
Physical Therapy
Plastic Surgery
Podiatry
Primary Care
Pulmonology
Rheumatology
Vascular Surgery
On Harrison Avenue near I-74, our center provides easy access to Green Township, Dent, White Oak, Colerain Township, Groesbeck and Westwood, among others.
Same Quality Care as Good Samaritan
From advanced information technology linking physicians and services with Good Samaritan Hospital in Cincinnati, to expertly trained staff and physicians, our center gives patients the advantage of high-quality care and integrated services. Physicians are digitally connected with the hospital, allowing for immediate consult and record-sharing. The result is quicker, more accurate patient care.
Integrated Care, from Emergency Room to Home
By integrating all Good Samaritan Western Ridge services and information with Good Samaritan Hospital, patients get seamless care. Whether being transferred from the emergency room to the hospital or discharged home, a patient's information is accessible throughout the system for follow-up care.
To get from Western Ridge to Good Samaritan Glenway or Priority Care on Glenway: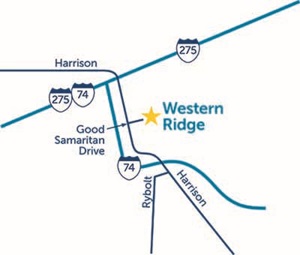 Turn left on Harrison Avenue as you leave Western Ridge. Travel 3.8 miles. Turn right on Race Road (Race Road becomes Glenway Avenue). Go 1.2 miles. Good Samaritan Glenway will be on your left. Go .5 miles further and TriHealth Priority Care Glenway will be on your right.
To get from Good Samaritan Glenway or Priority Care on Glenway to Western Ridge:
Turn right out of Good Samaritan Glenway or left out of TriHealth Priority Care Glenway onto Glenway Avenue (which becomes Race Road). Go 1.2 miles. Turn left onto Harrison Avenue. Travel 3.8 miles. Good Samaritan Western Ridge will be on your right.