The McCullough-Hyde Women's Giving Circle is made up of a diverse group of women that pool their donations and decide together how to best invest in programs that support and empower women and girls in the community.
The McCullough-Hyde Women's Giving Circle meets quarterly for networking, fellowship and educational sessions focused on health and wellness issues facing women.
A minimum donation of $1,000 is required for an individual, one-year membership.
Members are entitled one vote to determine which program or project to fund.
The evaluation of health and wellness projects will be based on the positive impact it will have on women and girls throughout Butler and Preble counties in Ohio and Franklin and Union counties in Indiana.
Members will collectively decide and vote on the recipients of the grants each year.
The inaugural grant was made in spring 2023.
The McCullough-Hyde Women's Giving Circle is open to all women who are interested in making a philanthropic impact. For more information contact Chief Development Officer Mary Bennett at Mary_Bennett@TriHealth.com or (513) 664-3850.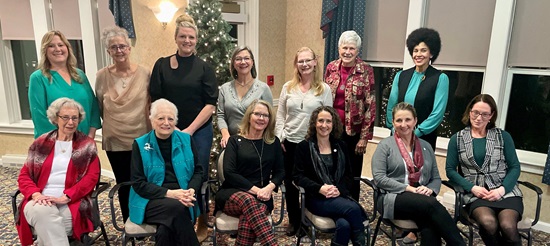 The founding members of the McCullough-Hyde Women's Giving Circle during the December meeting at the Knolls of Oxford.
"Alone we can do so little; together we can do so much."
Helen Keller