COVID-19 Notice:
To be able to serve our patients, our pharmacies are remaining open during regular business hours.
Who Are We?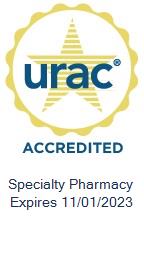 TriHealth Pharmacy Solutions offer convenient and affordable services for patients who need specialty medications for chronic and complex medical conditions. Our team members are specially trained and work side-by-side with TriHealth providers to meet the needs of our patients. We are able to offer this level of personalized care that helps patients and their families better understand and follow their treatment plan in order to improve patients' health and well-being.
In addition to filling specialty prescriptions, we can also fill traditional prescriptions like blood thinners and medications for conditions such as high blood pressure, high cholesterol and diabetes. If we are unable to fill your prescription for any reason we will transfer the prescription to a pharmacy of your choosing or to a pharmacy preferred by your insurance company.
What Do We Do?
Initial Education and Personalized Service: When our team receives your prescription we will review your medical record. Based on your disease state, you will be paired with a specially trained pharmacist and technician who will contact you to enroll you in TriHealth's Specialty Pharmacy, collect your insurance and shipping information, and walk you through the process for new prescriptions, refills and clinical follow-up.
Financial Support and Counseling: We understand the significant impact of specialty medication costs. We will work with you, your insurer, and your physician for financial assistance options. We will assist you with applying for co-pay assistance, alternate funding or other support to help you pay for your prescriptions.
Verify your insurance benefits and provide financial support and counseling and complete prior authorization paperwork.
Provide education on your medications over the phone.
Ship your medication directly to your home at no extra charge.
Monthly refill reminders and check-in calls to talk with you about any changes to your treatment, side effects and how to take your medications correctly.
Specialty Pharmacy Hours and General Contact Information
8 a.m. to 4:30 p.m. ET Monday through Friday
Closed Saturday and Sunday
Closed all major holidays unless otherwise announced
To speak with a pharmacist: 1 877 403 4229
To reach us by email: pharmacysolutions@TriHealth.com
Emergency Access
A pharmacist is available 24/7 by calling 1 877 403 4229
Refilling a Prescription
By phone: Dial 1 877 403 4229 and follow the prompts
Resources