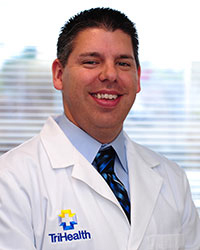 Thank you for your interest in the Sports Medicine Fellowship at TriHealth. Our ACGME accredited program was founded in 2005 through an educational partnership between TriHealth, Beacon Orthopedics and Sports Medicine. I am very proud of our program's accomplishments to date and I am even more excited to lead the program into the future. Our program prides itself on training the next generation of sports medicine physicians via a multidisciplinary educational program in the art of managing the unique and often complex medical needs of athletes and active persons of all ages, levels, and abilities, in a high quality, ethical, and caring manner. We work to foster an environment where diversity, equity and inclusion are key elements and to inspire new ways of thinking and behaving.
We offer two fellowship positions each year, accepting applicants from those with core training in Family Medicine, Internal Medicine, Pediatrics, Emergency Medicine, and Physical Medicine and Rehabilitation. Fellows are expected to take on an active teaching role for our core Family Medicine Residency program. In addition, our fellows are expected to teach physical exam techniques to the athletic training students at the universities for which we provide coverage.
Both longitudinal and block rotations are used to expose our fellows to the diagnosis and management of a broad range of sports medicine and subspecialty orthopedic conditions. Our fellows rotate with four core primary care sports medicine physicians over the course of the training year. These core faculty members are all active members of the AMSSM, contributing to various committees in the organization. In addition, the core faculty members have embraced the use of musculoskeletal ultrasound as both an extension of the physical examination and as a diagnostic and interventional tool. Our faculty provides weekly structured didactic sessions pertaining to MSK ultrasound in addition to supervised hands-on scanning sessions. Fellows are expected to gain competency in musculoskeletal ultrasound during the training year and then embark on a lifelong learning plan to gain further mastery with musculoskeletal ultrasound. Our orthopedic faculty members are passionate about teaching our fellows and include subspecialists in hand surgery, foot and ankle surgery, spine surgery, and pediatrics.
Fellows are given the opportunity to gain experience in the care of collegiate athletes at Xavier University (Division 1) and Mount St. Joseph University (Division 3). In addition, our fellows serve as team physicians at a local high school, providing weekly training room visits throughout the year as well as game coverage. The fellows serve on the Flying Pig Marathon medical planning committee to gain experience in the planning and implementation of medical care for an endurance event. Our fellows also spend a week in Colorado during our ski medicine rotation.
Cincinnati is an affordable, fun place to live and train. There is access to countless cultural, recreational, and community activities, including a Broadway-quality performance arts theater and countless acres of green hills and river valleys perfect for hiking, biking, kayaking, and boating. Fellows are provided a free membership to the TriHealth Fitness Pavilion.
We have graduated over 25 fellows since the program's inception. About a third of our graduates have decided to continue to work for TriHealth in various practice types. They help provide supervision for fellows at sporting events and serve as mentors for our fellows as they navigate the beginning of their sports medicine careers. Several serve as team physicians at the collegiate and professional levels.
Thank you for taking the time to learn more about our program. We believe our program offers comprehensive sports medicine training that prepares our graduates for whatever practice type and career path they envision. Please feel free to contact us with any questions about our program.
Richard A. Okragly, M.D.