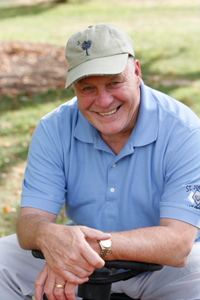 Bob Smith wasn't ready to meet his maker when he collapsed while visiting a Civil War museum with his wife and friends in Lexington, Kentucky. It was his second cardiac event in six months. "I wasn't ready the first time either," he jokes.
Chest pains while shoveling snow months earlier indicated Bob's less-than-ideal lifestyle was taking its toll. His anterior artery was significantly blocked. A stent was inserted to clear the blockage. But his collapse in Lexington meant the stent wasn't the answer his doctors had hoped.
At age 64, Bob prepared himself for another, more serious round of surgery, this time to bypass his anterior artery with a new one. Although he didn't realize it at the time, Bob now knows how lucky he was when his doctors referred him to J. Michael Smith MD for robotic-assisted surgery at Good Samaritan Hospital. "Surgery with a robot? You're kidding!" were Bob's initial thoughts. But his doubts faded after meeting Dr. Smith. "I was so impressed by this young guy. He made me so relaxed. He was very focused and confident. The best bedside manners I've ever seen," says Bob.
A week later, on a Monday, Bob had robotic-assisted surgery. By Thursday he was home, feeling great. "I mean I felt really great," says Bob who credits the da Vinci robot's minimally invasive procedure with his quick recovery. "I wanted to climb on my tractor my first day home, but I was told that wasn't a good idea."
Although he was ready sooner, Bob patiently waited two months before returning to work as development director for St. Joseph Orphanage. "Protocol wouldn't let me go back any sooner." Today he's living a healthier lifestyle – and he's happily back on his tractor.