Founded in 1982, The Good Samaritans is an organization of community volunteers dedicated to assisting Good Samaritan Hospital in its mission within the community of Greater Cincinnati.
The Good Samaritans follows its own bylaws and serves Good Samaritan Foundation as a "friend – fundraising society." The organization was conceived as the brainchild of a group of dynamic women who wished to support the hospital and increase Good Samaritan's value to society.
The Good Samaritans of Good Samaritan Foundation: What We Do
The Good Samaritans have proven to be extremely effective in impacting community health needs. More than $10 million have been raised over the past 38 years through their annual Gala. The funds have helped underwrite a variety of efforts undertaken by good Samaritan Hospital to improve the availability and quality of health care for the people of Greater Cincinnati.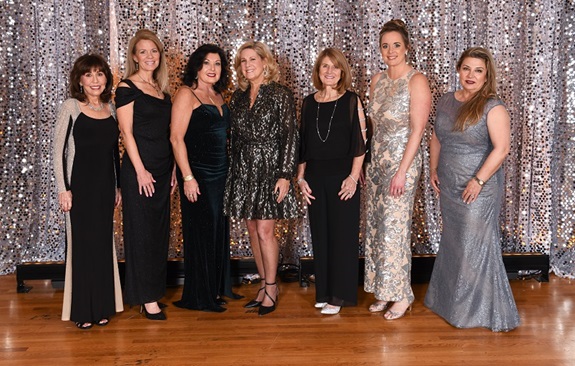 From left to right: Melody Weil, Lisa Martin, Joyce Lehmann, Renita Homan, Tessie Hayden, Lesley-Ann Gracey, Shiva Ghazi
The Good Samaritans are quite proud of their contributions:
Supporting patients and families

$330,000 Breast Cancer Program

$303,000 TriHealth Cancer Institute Personalized Medicine Program

$276,000 Fetal Therapeutics Collaborative

$218,000 TriHealth Neuroscience Institute

Creating healing environments

$305,000 Cardiovascular Services Department

$270,000 Cardiac Cath Pre/Post Recovery Unit

$250,000 Cardiovascular Services – TMR Heart Laser

$250,000 Digital Mammography for Mobile Van

$246,282 Women's Services – UltraSound Equipment

$245,000 Radiation Oncology Department

$230,000 Concussion Management Program

$165,000 Outpatient Cancer Care Unit

$90,000 Rehabilitation Center

$87,000 Arrhythmia Mapping Technology for Heart Center

$35,000 Regional Molecular Diagnostic Center

$30,000 Peripheral Laser Angioplasty Laboratory

Caring for the community

$776,252 Good Samaritan Free Health Center

$583,000 Faculty Medical Center

$550,237 Cellular Therapy Program

$506,000 Clinic Assistance Endowment

$346,500 Behavioral Health Department

$114,000 Parish Nurse Ministry Program

$37,000 Community Trauma Prevention Program

Educating caregivers of today and tomorrow

$253,000 Good Samaritan College of Nursing and Health Science

$47,000 Good Samaritan Nursing School Endowment

Innovating the future of care

$1,087,360 Medical Education Research Fund

$585,000 E. Kenneth Hatton Research Institute

$299,000 Minimally Invasive Surgery Training Center

$285,000 Perinatal Research Center

$250,000 Cardiovascular Robotic Surgery
Please contact Kelly Vance at Kelly_Vance@trihealth.com ;for more information.