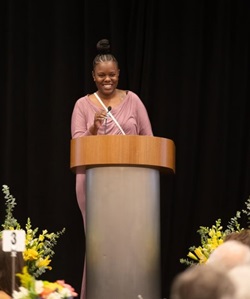 Lakeda Thomas-Johnson, Class of 2023
Alumna and Former Scholarship Recipient
Scholarships for students of Good Samaritan College of Nursing and Health Science are possible only through the generosity of donors. These scholarships make an impact by supporting not only students and their families but also all the patients they will care for in the future.
During the 2023-24 academic year, our family of donors provided a total of $321,000 in support through 100 scholarships to 68 deserving students. A list of current academic year scholarships and recipients is below.
Support GSC today by visiting gscollege.edu/donate.
To view photos from the 2023 Annual Scholarship Reception, click here.
Good Samaritan College 2023-2024 Scholarship Recipients
Andrew Bowling Memorial Scholarship
Barbara Kelley 1958 scholarship
Barbara M. Hobbie Memorial Nursing Scholarship
Barbara Prater and Lisa (Prater) Limerick Memorial Scholarship
Brunsman Family Scholarship
Judy Kronenberger, GSC President;

Lizzie Stafford, GSC Honors Scholarship Recipient

Teresse Allen
Carol Mayborg Scholarship
Hope Milner
Mckenzie Rempel
Carol Rabenstein Brown Becker Scholarship
Class of 1958 Scholarship
Class of 1961 Scholarship
Class of 1963 Scholarship
Class of 1965 Scholarship
Class of 1977 Scholarship
Kaitlyn Maaytah
Mackenzie Williams
Class of 1979 Scholarship
Connie Sauerbeck Scholarship
Cora Budde Scholarship
Dorothy Singer Memorial Scholarship
Dr. Robert and Constance Reed Scholarship
Olivia Gorman
Alexis Turner
Edward* and Rita Ross Bramkamp Scholarship
Erna Dalton Butler Scholarship
Kaylee Kaiser
Mckenzie Rempel
Atarah Yisrael
Ginny Roberts Memorial Scholarship
Beverlee Atwater
Katie Scott
Good Samaritan Hospital Guild Scholarship
Faiza Abdirahman
Hilary Larbes
Helping Hand Scholarship
Fatoumata Nianghane
Shane Owens
Alexis Turner
Honors Scholarship
IFC Scholarship
Jasmine Asberry
Macon Russo
Jacqueline Boothe Lips Scholarship
Jacquelyn Mayer Scholarship
Kaitlynn Dorst
Samantha Squeri-Earley
Jan Klarquist and Aaron Knowlton Single Parent Nursing Scholarship
Jane Hartman Whalen Scholarship
Jason Sedler Scholarship
Maaytah Kaitlyn
Alivia Naticchioni
Andrea Steinmetz
Lila Suggs
India Weathers
Kirsten Wegman
Jeannie & Gene Stelten Family Scholarship
Joan Dornette Scholarship
JoAnn Dellegrotti Memorial Scholarship
John and Mary Sparke Memorial Scholarship
Josephine Walters CareStar Scholarship
Karen Ann Mulholland Scholarship
Kathleen Carrigan Scholarship
Loewenstine Family Scholarship
Florence '51 and Leonard J. Schneider Family Scholarship
Marge and Charles J. Schott Scholarship
Marian* and Roy* Evers Scholarship
Marianne Hoobler Staubach Scholarship
Marilee Aubuchon Satchell Scholarship
Mary Ann Kroger Scholarship
Mary Jo Kathman Scholarship
Mary Middendorf Rath '66 Scholarship
Mother Ryan Scholarship
Teresse Allen
Kundai Banda
Nancy Mackenzie Powell Scholarship
Noa Tessa Anderson Scholarship
Patty Amrein Bulcher Memorial Scholarship
Rachel Arnold
Brittany Raps
Ray Bergman Scholarship
Alicia Nugent
Katie Scott
Rita DeFazio Yokers Nursing Scholarship
Rita Howe Hutchinson Memorial Scholarship
Rita Stephan and Kay Stangby Scholarship
Allyssa Isham
Abigail Rust
Robert and Christine Steinmann Family Foundation Scholarship
Hilary Larbes
Angela McKee
Emily Morgan
Abigail Rust
Matthew Whitmore
Rose Marie Niehoff Lukens Scholarship
Good Samaritan College Scholarship Fund
Kaci Backer
Tonya Berger
Isabella Cigolotti
Markesha Hunter
Veasna Korm
Megan McDaniels
Makenzie McFelea
Hope Milner
Katie Niederbaumer
Shane Owens
Samantha Readinger
Mckenzie Rempel
Diana Santana Perello
Kennedy Ward
Kristy Wolfram
Stephen Jason Morsch 8 Days 1 Hour Scholarship
The Good Samaritans Scholarship
Violet A. Woods Mills Scholarship
Vivian Honor Oestreicher Friends and Family Nursing Scholarship
Good Samaritan Hospital Medical and Dental Staff Scholarship
Desarae Allen
Alison Hartman