The Good Samaritan Hospital Guild is associated with Good Samaritan Foundation. Guild members are not required to do volunteer work for the hospital, but are invited to take part in membership dinners, educational programs, entertaining presentations and service activities.
Special projects and programs funded by the Guild benefit patients, visitors and all who work in the hospital. This unified group enjoys working hard and, more importantly, working together.
How the Guild Helps Good Samaritan Hospital
The Good Samaritan Hospital Guild supports Good Samaritan Hospital in many ways.
The Guild sponsors and provides chairpersons for ongoing service projects, such as their partnership with Joseph-Beth Booksellers to carry on the operational services of the gift shop. Through this partnership, the Guild looks forward to a bright future of continuing to offer their services toward projects and programs throughout Good Samaritan that enhance care for patients, their families, and the community at large.
The Guild hosts membership meetings two times per year in the months of May and October. Join us to make a difference! Team member dues are $10 per year or $100 for a lifetime membership.
Conni Tupes, Guild Board Member, presents the Guild Safety Huddle Award to the Patient Placement Services and Administrative Supervisors Team with Good Samaritan Hospital administration.
Pictured left to right: Maria Ashdown, Vice President & Chief Nursing Officer Good Samaritan Region; Hannah Tripp, Nurse Manager 11AB; Kailyn Stelzer, Assistant Nurse Manager PPS/AS; Emily Ledford, Nurse Manager PPS/AS; Sarah Barwell, Assistant Chief Nursing Officer Good Samaritan Hospital; Conni Tupes, Guild Board Member
Good Samaritan Hospital Guild Board Members
Darlene Ambach, President
Bill Hawke, Vice President/President-Elect
Carol Mayborg, Treasurer
Marilyn Schwiers, Corresponding Secretary
Zita Jeanmougin, Recording Secretary
Candy Hart, Immediate Past President/ Parliamentarian
Patty Polleys, Member at Large
Conni Tupes, Chairperson, Birth Certificates/Baby Photos
Terry Miller, Chairperson, Membership
Pere Stojanovski, Activities & Special Projects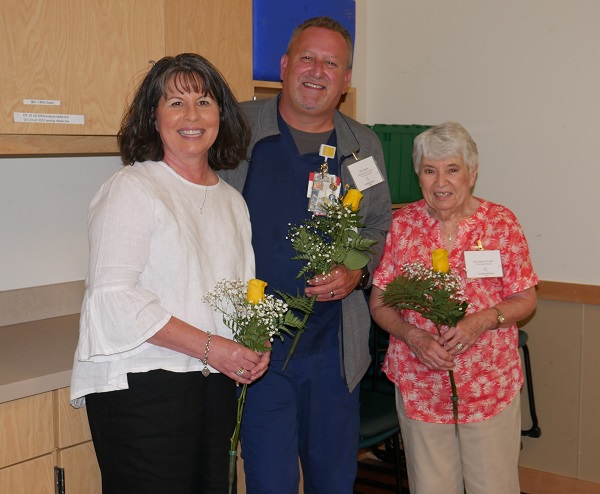 Pictured left to right: Darlene Ambach, Bill Hawke, Zita Jeanmougin