Good Samaritan Hospital has played a crucial role in the Cincinnati community since 1852, and our commitment to providing the best possible care continues today. A Catholic institution founded by the Sisters of Charity, Good Samaritan is the oldest and largest private teaching and tertiary health care facility in Greater Cincinnati, sponsored by Catholic Healthcare Initiatives.
Our History
In 1852, Archbishop John Purcell recognized the need for a hospital that would provide care to people who couldn't afford medical treatment. He bought a 21-bed hospital and turned it over to the Sisters of Charity of Cincinnati. The hospital, named St. John's Hotel for Invalids, was the first private hospital in Cincinnati.
Within three years, the sisters cared for more than 1,500 patients, and needed a larger facility, so they moved to a former mansion at Third and Plum Streets. St. John's Hospital, as it became known, cared for many injured men and women during the Civil War from 1861-1865.
The Hospital of the Good Samaritan
In 1866, Joseph C. Butler and Louis Worthington bought a large building at Sixth and Lock Streets, and gave the facility to the sisters with two conditions: that no one be excluded from the hospital because of color or religion, and that the hospital be named "The Hospital of the Good Samaritan," to honor the sisters' kindness. The 95-bed hospital opened in 1866.
Our Current Location
Patient care and medical education grew and thrived, and in 1907, a five-bed annex to Good Samaritan Hospital opened in an old mansion at Clifton and Resor Avenues in Clifton. Over several years, the sisters were able to secure more land in the area on their own and with the help of Joseph C. Butler. The decision was made to move all of Good Samaritan Hospital to Clifton, and in 1915, a two-wing facility opened at our current location.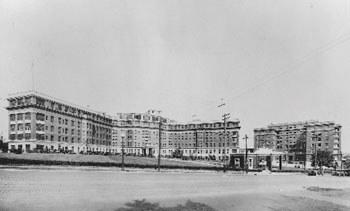 A third and fourth wing were added in 1927 and 1959, respectively, with another tower opening in 1985.
In 1995, Bethesda North joined TriHealth, and is now part of one of the most integrated health care systems in the U.S.
In 2007, the Dixmyth Avenue tower project was completed, and our facility now encompasses more than a city block.