Shoulder replacement surgery, or shoulder joint replacement, can relieve pain and restore function of damaged shoulder joints. You'll benefit from the region's most experienced, fellowship-trained team of specialists at TriHealth Orthopedic & Sports Institute and Beacon Orthopaedics & Sports Medicine. To ensure the best outcome for your condition, our team uses state-of-the-art equipment including 3D modeling and GPS navigation for reconstructive surgery.
Shoulder Replacement
Shoulder replacement is surgery to remove your damaged shoulder joint and replace it with artificial parts.
Shoulder replacement causes
You may have shoulder joint replacement surgery if you have:
Avascular necrosis—a condition that interrupts blood supply to the bone, causing bone cell death
Severe arthritis—caused by damage to the cartilage in the shoulder joint resulting in painful bone-on-bone contact between the ball and socket
Massive loss of rotator cuff function—due to age-related degenerative tearing or trauma
Traumatic fracture to the shoulder joint—caused by motor accidents, sports injury and falls
Shoulder replacement options
These include conventional and reverse shoulder replacement. Which type you have depends on your shoulder condition. Your TriHealth orthopedic specialist will determine the type that best suits your needs.
Conventional shoulder replacement
Conventional should replacement uses a metal ball and plastic socket to replace your original shoulder joint. Candidates for this option have shoulder arthritis and intact rotator cuff muscles. Other types of conventional shoulder replacement replace only the damaged humerus head or socket.
Reverse total shoulder replacement
Reverse total shoulder replacement is for people with rotator cuff tears that surgery can't fix. This surgery reverses the ball and socket locations. A metal ball replaces the socket, and the original upper arm ball is replaced by a socket. Because the rotator cuff muscles no longer work, reverse total shoulder replacement uses the deltoid muscles, at the top of the arm and shoulder, to restore arm function.
Recovery from shoulder replacement surgery takes three to four months and includes extended physical therapy.
Shoulder replacement risks
Shoulder replacement surgery is major surgery. With any surgery, there are risks. You and your surgeon will discuss the risks and complications associated with shoulder replacement surgery. Generally, surgery risks may include:
Bleeding
Infection
Nerve damage
Wear or loosening of replacement parts
Shoulder replacement outcomes
After your recovery from shoulder replacement, you should experience less pain and improved movement. People who have reverse total shoulder replacement may experience similar benefits.
Make an appointment
To learn more about shoulder replacement or make an appointment with an orthopedic specialist: Call TriHealth at 513 246 2300 or our orthopedic partner, Beacon Orthopaedics & Sports Medicine, at 513 354 3700.
Total Shoulder Joint Replacement Class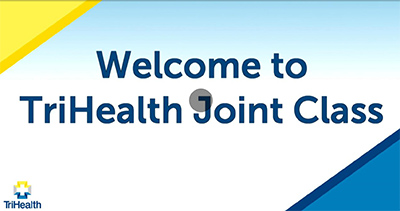 Thinking about having a Total Shoulder Joint Replacement? We highly encourage patient's and caregivers to view the below class prior to surgery. This will provide you will valuable information on what to expect before, during, and after surgery, as well as help you and your caregivers feel prepared for your joint replacement journey.