Surgical Weight Loss Program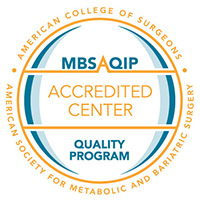 We are a comprehensive accredited surgical program through The Metabolic and Bariatric Surgery Accreditation and Quality Improvement Program, providing multidisciplinary, high quality, patient-centered care. Our surgeons are the most experienced weight loss surgery team in Cincinnati with more than 3,000 bariatric procedures performed at TriHealth's Good Samaritan Hospital. We continue to grow as our surgeons not only perform gastric bypass and sleeve gastrectomy but they also consult for lap band removals and revisions. We will work with you to determine which procedure is best for your health needs and goals. Our multidisciplinary team offers expertise from surgeons, dieticians, behavior health specialists, exercise physiologists, a clinical team, and front office support that will partner with you every step of the bariatric surgery program. We are invested in your success and are looking forward to guiding and preparing you to make the necessary changes for a lifetime.
For more information about our metabolic and bariatric surgery program follow the path below:
View our Informational Seminar Video and our Program Overview video
The seminar will discuss:
Introduction to our program criteria
Weight loss surgical options
Risks and benefits of weight loss surgery
Fluid and protein goals
Vitamin and mineral supplementation
Also includes videos of RYN and sleeve
Click here to view introductory video seminar online
The Bariatric Surgery Program Overview and Requirements video will review:
Insurance coverage
Program components and monthly visits
Support offered before and after surgery
Common Questions About Weight Loss Surgery
Weight loss surgery is a major decision and you may have many questions even after viewing the informational videos included here…questions on health benefits, safety risks, and insurance coverage are just some of the most common questions we have heard from our patients. Click here to access detailed answers to these more common questions.
We Provide Quality You Can Trust
We are an accredited comprehensive bariatric surgery center by the Metabolic and Bariatric Surgery Accreditation and Quality Improvement Program (MBSAQIP), a joint program of the American College of Surgeons (ACS) and the American Society for Metabolic and Bariatric Surgery (ASMBS).
If you are interested in scheduling a consultation visit with one of our board certified physicians to discuss bariatric surgery call (513) 862-4957.