From ultrasounds and electrical stimulation to phonophoresis, Bethesda Butler Hospital offers a comprehensive range of services for you. Our highly trained physical therapy staff combines patient education and advanced technology with a personalized treatment plan so you can lead an active, independent lifestyle.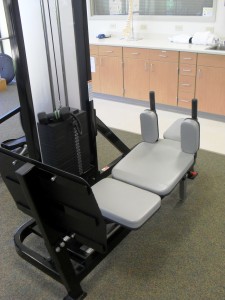 We treat the following conditions:
Orthopedic conditions
Neuromuscular deficits
Pre- and post-surgery rehabilitation
Total joint replacement
Sports injuries
General debility
Balance issues/Fall prevention
Vertigo/Dizziness
Trauma from motor vehicle accidents
Comprehensive Services
Your therapist works collaboratively with your physician to develop an individualized treatment program that accelerates healing, relieves pain and restores function. An average visit is about 40 to 60 minutes depending on the extent of your injury or symptoms. Treatments may include:
Ultrasound
Electrical stimulation
Cervical and lumbar traction
Phonophoresis
Iontophoresis
Paraffin
Moist heat/cold packs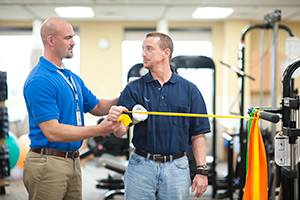 We may also use the following equipment to help rebuild strength and endurance after your injury:
Treadmills
Elliptical units
Recumbent bikes
Free weights
Swiss balls
Balance equipment
Therapeutic strength training units
Your First Appointment
Your first visit is spent with one of our licensed physical therapists, who performs a thorough assessment on your range of motion, flexibility, strength and functional abilities. Please arrive 20 minutes prior to your scheduled appointment time to complete the registration process. Please bring your physical therapy prescription from your doctor, your identification card, insurance cards, and the necessary completed forms to your appointment.

Comfortable clothes that do not restrict movement should be worn to therapy. We suggest supportive shoes or tennis shoes be worn to therapy.