Your Legacy Advances the Future of Healthcare
Gift planning is a powerful way to make a lasting impact on the world. When you include Good Samaritan Hospital and/or the Good Samaritan College of Nursing and Health Scienc in your estate plans, you support groundbreaking research, education, and innovations for years to come.
Good Samaritan Hospital Legacy Society
The Legacy Society honors donors who include Good Samaritan Hospital and/or the College of Nursing in their estate plans. Our generous legacy donors from all over the county share the common vision of helping us advance the standard of healthcare for decades to come.
There are many ways for individuals, families, and foundations to make legacy gifts and become members of the Legacy Society, including:
Beneficiary designations on life insurance policies or retirement assets
Charitable bequests through a will or trust
Charitable lead trusts
Life-income gifts, such as gift annuities or charitable remainder trusts
Securing pledges through estate plans
Learn more about the many philanthropic and financial benefits here.
Our story
In 1852, recognizing the need for a hospital that would provide care to people who could not afford the medical treatment they needed, Archbishop John Purcell of the Roman Catholic Archdiocese of Cincinnati purchased a 21-bed former eye hospital and turned it over to the Sisters of Charity of Cincinnati. It was named St. John's Hotel for Invalids and was the first in the city. Later, it was relocated and renamed Good Samaritan Hospital as we know it today.
Since that time Good Samaritan Hospital has been a pioneer in research, education, and patient care. Our growth over the more than 170 years now, was largely made possible with the support of donors like you, whose impactful legacy gifts help us plan for the future. In 1991, we established the Legacy Society to thank and honor our friends, patients and alums who continue to build the legacy of Good Samaritan Hospital through long-term planning.
Member benefits
There are many ways we celebrate Legacy Society members, including:
Invitations to special events celebrating the impact of your philanthropy
Annual updates from our leadership team
Subscription to and recognition in our annual magazine, Compassionate Giving
Visit from our team when you or loved ones are in the hospital, if requested
Contact us!
Call 513 862 3786 or email Kelly_Rowland@trihealth.com to learn more about the Legacy Society and how you can become a lifetime partner to support Good Samaritan Hospital's mission.
View photos from the Foundation's most recent Giving and Legacy Event here.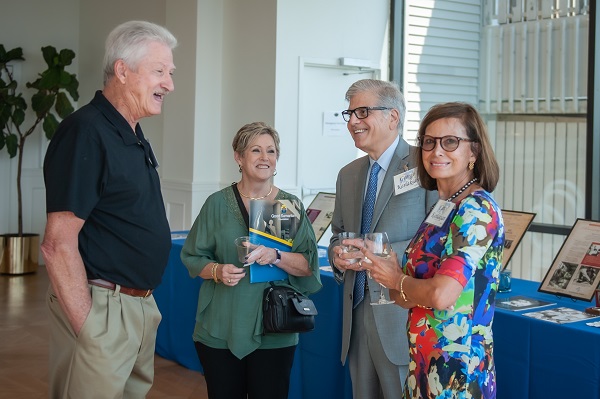 Ron and Jan Beckemeyer with Dr. George and Carol Kerlakian