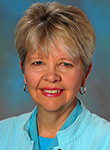 Registered Dietitian/Diabetes Educator, Perinatal Programs
Julie is a registered, licensed dietitian, certified diabetes educator and certified lactation counselor. She is available to meet with pregnant women with diabetes and pregnant women with other nutritional concerns such as weight loss, vegetarian or special diets. After a thorough nutrition assessment, together they set up nutrition goals and an individualized meal plan. Julie is available for follow-up as needed for nutritional support to help patients through a successful pregnancy. Julie is a member of the American Dietetic Association.
Angela Funk, MHA, RDN, LDN
Registered Dietitian/Diabetes Educator, Perinatal Programs
Education:
BS, Nutrition and Dietetics, The University of Dayton
Masters of Healthcare Administration, Samford University
Angela has a passion to educate proper nutrition in order to prevent disease and live a healthy lifestyle. She has a food blog on Instagram called @fueledwithang, where she shares healthy recipe ideas, tips, and tricks to living a balanced and nutritious lifestyle. Angela likes to focus on teaching people how they can eat healthy, engage in exercise, and enjoy their life. She also teaches those who already may have a pertinent disease, how to manage those symptoms and improve the outcome of their disease by engaging in healthy lifestyle changes. Angela's focus areas: diabetes education, weight management.