The Story of TriHealth
How Two Respected Cincinnati Hospitals Grew Stronger by Joining Forces
Most of Cincinnati's residents are familiar with Bethesda North and Good Samaritan hospitals. More babies are born at the two locations than anywhere else in the state, so there's a good chance you were, too.
But both hospitals—along with more than 80 other care locations—are also part of TriHealth, a unified health care system dedicated to improving the health of our community, with an emphasis on prevention, wellness and education. Here's a look at how TriHealth was born and has grown to thrive.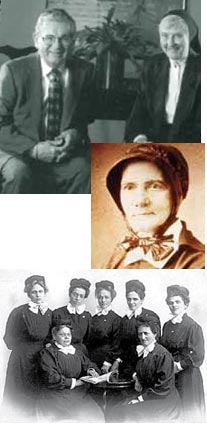 Many people are part of the rich history of TriHealth.
Top: TriHealth founders L. Thomas Wilburn Jr., former
chief executive of Bethesda Hospital Inc., and Sister
Myra James Bradley, former president and chief
executive of Good Samaritan Hospital. Middle: Sister
Anthony O'Connell, a founder, along with Joseph Butler,
of Good Samaritan Hospital. Bottom: the Deaconesses,
founders of Bethesda Hospital.
In 1995, the sponsors of Bethesda Hospital (founded in 1896) and Good Samaritan Hospital (founded in 1852) formed a partnership to become TriHealth. The name TriHealth was based on a partnership of physicians, hospitals and the community. In the years since, the system has been recognized locally and nationally for top-rated maternity, cardiac, orthopedic and neurology services, among others. But combining two independent and highly regarded hospital systems had its challenges, says Pam Shannon, vice president of Population Management, who has been with TriHealth for 37 years, beginning at Bethesda.
"Good Sam was well-respected for their traditions, and Bethesda was seen as more entrepreneurial. So it took a lot of work to come together and determine our mission and values, and where we wanted to go," Shannon says. "We started by looking at our commonalities and our differences and how we could capitalize on both."
A three-year self-assessment and change process helped TriHealth do this and more. A focus on controlling expenses and managing resources positioned the organization for growth.
By 2000, difficult decisions—such as closing Bethesda Oak Hospital had come about. Yet through it all, TriHealthretained 98 percent of the physicians from both Good Samaritan and Bethesda North, and nearly all of Oak's team members secured jobs within TriHealth. By this time, the rest of the organization was beginning to come together as well, says Linda Riesenbeck, an executive assistant who has been with TriHealth for 38 years, first at Good Samaritan.
"We would come over to Bethesda for computer classes. They'd come to Good Sam for meetings. As we got to know each other, we became more accepting and appreciative of our differences and strengths, and more inclined to want to team up," Riesenbeck says.
By 2005, this collaborative spirit began to bear fruit in the form of strategic plans that would shape TriHealth's future. The organization initiated the first stages of extensive renovations and expansion at both hospitals and opened Good Samaritan Western Ridge and Bethesda Arrow Springs, which brought medical care, including emergency departments, to where people live.
TriHealth also more actively began to add primary care and specialty physician practices to its fold—all in an effort to improve quality, service and safety, and to create an even more seamless care experience for patients.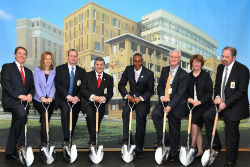 In January 2011, TriHealth broke ground
for a new medical office building at
Good Samaritan Hospital.
Today, Bethesda and Good Samaritan hospitals both have added new towers, which will ensure enough beds to care for patients through at least 2020. Since 2005, TriHealth has teamed up with physician practices that wanted to become a part of the system and now employs more than 200 physicians. Shannon attributes much of this success to TriHealth's ability to stay focused.
"While other systems have come and gone, we are the 'steady Eddies.' Our leaders had a vision for what TriHealth could be in this community, and we've kept our heads down and stayed focused on doing the hard work to make it happen," Shannon says.
The future continues to look bright for TriHealth. This year, the organization is establishing clinical institutes that will provide a new, innovative model of care for patients, and is rolling out new branding that will further tie the organization together as a system.
"We have the Cancer Institute, the Heart Institute and both hospitals under the same umbrella. That makes it even more important that people know they're part of the same system," Riesenbeck says. "The new branding will go a long way toward helping the community understand that TriHealth is both hospitals and more."