Outpatient Diabetes Education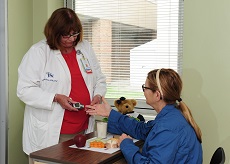 Bethesda North Hospital
10496 Montgomery Road
Suite 206
Cincinnati, OH 45242
Fax: (513) 569-6617
Contact: (513) 865-1126
Good Samaritan Hospital
375 Dixmyth Avenue
Cincinnati, OH 45220
Fax: (513) 569-6617
Contact: (513) 865-1126
McCullough-Hyde Memorial Hospital
110 North Poplar Street Oxford, OH 45056
Fax: (513) 524-5409
Scheduling: (513) 524-5555
Contact: (513) 524-5692
or (513) 524-569
Talk with your primary care doctor to get a referral for diabetes education.
Your insurance company may cover the cost of your visits - this varies so it is highly recommended you confirm what your plan covers. You can also make self-payment arrangements if needed. Currently, Medicare allows 10 hours of education the first year after you are diagnosed and then pays for two hours each year after for an update of current information.
You must be referred by the doctor who is managing your diabetes. For questions or to schedule, please contact us at (513) 865-1126 (Bethesda North Hospital or Good Samaritan Hospital) or (513) 524-5555 (McCullough-Hyde Memorial Hospital).