A Message from Katie Meister, MD FACS, FASMBS
Program Director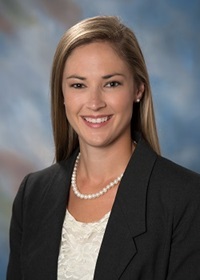 Welcome to the TriHealth General Surgery Training Program! Established in 1928 at Good Samaritan Hospital in Cincinnati, we have a long tradition of being one of the strongest and most sought after Independent Academic Medical Centers in the country. Coupled with an experienced staff and surgical volume of over 15,000 major cases per year, our graduating reside is a requiremnts are well-prepared to pursue surgical practice or further fellowship training at highly competitive programs.
Our program has a long-standing history of strong leadership in Drs. Cranley, Welling, Grannan and Tymitz serving as former Program Directors. As a graduate of the TriHealth General Surgery Residency, I understand how important this program is not only to our residents and graduates, but to the communities we serve as well. I am honored to be able to take on the role of Program Director and look forward to leading this program in the future.
Our training program provides an environment that is medically and surgically challenging in both private and university hospital settings. Our residents learn from board-certified and fellowship trained faculty with extensive experience in their specialties including minimally invasive and robotic surgical platforms. Our residents hone their skills in a state of the art minimally invasive training center, as well as simulation lab. With over 1,200 cases throughout their training, our chief residents graduate with no deficiencies in the American Board of Surgery's defined categories.
Research has long been a factor that sets TriHealth apart from other programs. Through the E. Kenneth Hatton MD Institute for Research and Education, we have full-time research staff that actively facilitate in the conduction and publication of research projects. As a resident, itent to be engaged in research. The experienced staff in Hatton makes research not only achievable, along with busy clinical responsibilities, but also enjoyable. It is very common for our residents to have multiple peer-reviewed journals, as well as poster or podium presentations at national meetings.
In an effort to match the needs of the community for which we serve, TriHealth is firmly committed to increasing the diversity of our training programs. We seek to foster an environment where diversity, equity and inclusion are key elements. We welcome all people regardless of background in hopes to inspire new ways of thinking, behaving and caring.
Aside from the long tradition of producing competent and confident surgeons in five years, one unique and distinguishing characteristic about TriHealth is its people. Once you are here, you are family. The camaraderie between faculty members and the residents is second to none. We pride ourselves in creating an environment that is ideal for learning and at the same time inspires inquiry and change. This is what drove me to TriHealth, and the message that I will continue to preach as Program Director.