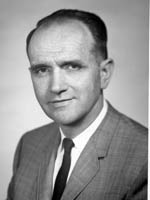 The Department of Surgery at Good Samaritan Hospital has a long and illustrious history of international acclaim as a center for advanced vascular surgery. In 1952, a budding vascular surgeon by the name of John J. Cranley established a laboratory in his private office and started conducting pioneering research in vascular surgery. His discoveries brought both himself and the department of surgery intercontinental recognition, culminating in Good Samaritan Hospital offering him space and facilities for the development of a laboratory, which he developed into the first completely dedicated surgically oriented vascular laboratory in the nation in 1959.
The vascular surgery residency at Good Samaritan Hospital is fully accredited and offers both an integrated 0 + 5 and a 5 + 2 program. The integrated program offers matriculating senior medical students the opportunity to match directly into a vascular surgery residency without having to complete a traditional five-year general surgery training program.
Residents are provided a unique vascular surgery experience in a private hospital setting, learning from board-certified vascular surgeons with extensive experience in both open vascular and endovascular surgery. Each year more than 15,000 major surgical procedures are performed in the hospital's 23 operating rooms, including dedicated endovascular hybrid suites, and on average, each vascular resident will perform close to 200 open index vascular operations and more than 400 therapeutic and 300 diagnostic endovascular procedures.
Eighteen months are dedicated to a core general surgery curriculum, during which the vascular surgery resident will have the opportunity to participate in a wide array of general and vascular surgery procedures. This format also allows the resident the opportunity to participate in a number of unique rotations, including the John J. Cranley Vascular Laboratory, CT and MRI imaging, transplant surgery, trauma surgery, and surgical intensive care unit. Forty-two months are dedicated specifically to vascular surgery training.
Graduates of our vascular surgery residency program have superb pass rates on the American Board of Surgery Vascular Exam and are extremely well prepared for a career in vascular and endovascular surgery.